So, can crypto make you rich? Yes, it absolutely can! However, multiple factors go into how to actually make money in crypto. In other words, various ways can take you to the "promised land" if approached correctly. As a rule of thumb, the riskier the path, the faster it can get you to your goals. Of course, it can also make you lose money quite quickly if you don't manage your risk properly. However, no matter which path you take, there are some common denominators that you ought to learn about. Thus, we'll start today's article by listing three things you must avoid to make money in crypto
Then, we'll cover all the most popular ways of how to make money in crypto. Although there are various tools you can use, you'll soon learn that there's one fundamental and essential tool needed to make the most out of the most lucrative opportunities.
This holy grail is known as Moralis Money. Of course, we'll cover the gist of it and how to use this indispensable tool in this article as well.
However, for now, you can enjoy this quick sneak peek: 
3 Things to Avoid to Make Money in Crypto
As you'll learn in the upcoming section, there are several legitimate ways you can make money in crypto. Of course, not all have the same upside potential. However, to succeed with any of them, you must avoid the three most common obstacles crypto investors face. And they are known as FOMO, scams, and lack of time.
So, let's ensure you get acquainted with these. That way, you'll understand how to recognize and avoid them.
FOMO

The fear of missing out is nothing new and appears in all aspects of life. It is part of all forms of investing. However, since cryptocurrencies tend to have explosive moves, crypto FOMO takes things to a whole different level. It is due to FOMO that most inexperienced traders/investors buy the top and sell the bottom.
So, how can you overcome FOMO?
Being properly informed about the state of the market and becoming mindful of your emotions is a great starting point. However, an even greater edge comes in the form of invaluable insights that can help you spot on-chain momentum early. This enables you to position yourself in a timely manner and avoid FOMO altogether.
Scams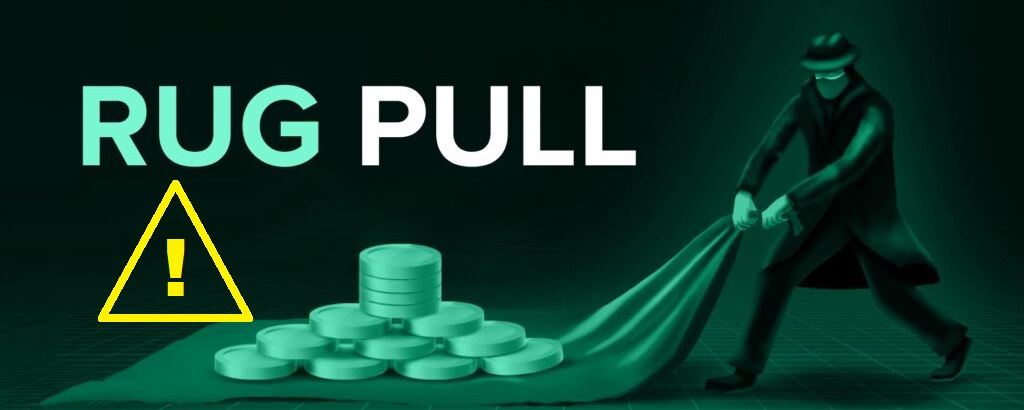 Like in many industries, scams are everywhere; it's something unavoidable. The key is to be aware and know what to look out for. Of course, some scams, such as hacks, are pretty hard to predict. However, rug pulls and exit scams can be avoided if you know what to pay attention to. By considering the project's smart contract properties, social activity, and other factors, one can spot rotten apples.
When using the Moralis Money Starter or Pro plan, you get access to advanced security scores to easily avoid various crypto scams!
Lack of Time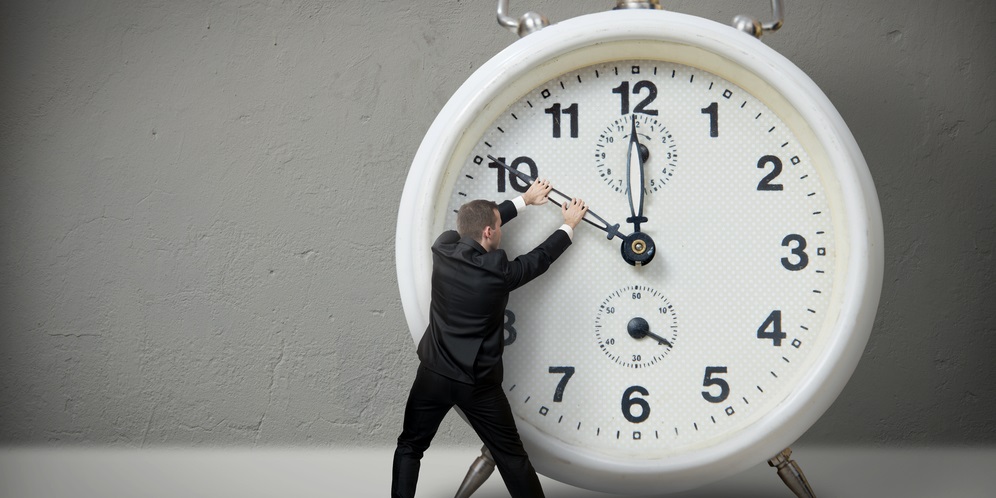 In this fast-paced lifestyle, most of us don't have time to closely monitor the crypto market, and we easily miss out on great opportunities.
If only there was a tool that could help you overcome all these three hurdles, including time constraints. Well, fortunately, there is! You've guessed it, it's Moralis Money. You can learn more about how this tool tackles the above-outlined thieves by exploring three essential crypto trading tips.
How to Make Money in Crypto
As pointed out previously, there are various ways of how to make money in crypto. However, while all the following methods can make you money, their potential going from simply "making money" to answering the concern regarding "Can crypto make you rich?" varies. 
All in all, here are the most popular ways investors and traders have been using to make money in crypto:
Investing – Buying cryptocurrencies in their early stage and HODLing until you can sell them at a large profit.  
Trading – There are many types of trading that can make you a lot of money. It all depends on your skills and preferences. For example, you can focus on spot trading or leverage trading, both on various timeframes.
Staking and Lending – Many crypto projects have their own dapps where you can stake their native tokens to earn yield. Plus, there are several centralized and decentralized platforms/protocols with a wide range of crypto, so you can earn by contributing to the liquidity and security of the network. You can also earn by lending your crypto to other users. Typically, higher yields mean higher risk.
Going Full-Time Crypto – Blockchain/crypto is an emerging industry offering countless career opportunities to make decent money. 
Mining – In the case of proof-of-work (PoW) blockchain networks, you can obtain the required equipment to become a validator. By doing so, you earn mining rewards. 
Airdrops – Many upcoming and existing projects offer early supporters a portion of their crypto tokens, which can sometimes be worth a lot of money. 
P2E – The crypto space gave birth to new types of video games known as play-to-earn (P2E) games. These games allow users to earn crypto in the form of fungible or non-fungible tokens while playing.  

Can All of the Above Methods Make You Rich?
Yes and no. After all, it all depends on your initial capital and your perception of being rich. For instance, does the ability to make $100 a day trading crypto make you rich, in your opinion?
However, just by playing P2E games and chasing airdrops, one has low-to-zero chances of becoming rich by most standards. 
On the other hand, various combinations of crypto investing and trading have the best track records when it comes to making life-changing money. Trading is particularly practical as it allows you to also make money in a crypto bear market.     

Can Crypto Make You Rich Solely By Using a Specific Trading or Investing Strategy?
Yes, there are many ways that crypto can make you rich. It can be by simply following one specific trading or investing strategy "to the T" or combining various methods. After all, there are many individuals who have made a fortune by spot trading, swing trading, investing in ICOs, and so on.
That said, it does not matter what type of trading or investment strategy you use if you're not using the most fundamental tool available to all traders, namely, a token explorer/scanner of some sort. Such a tool is paramount because, without it, you wouldn't be able to find crypto in the first place to make you rich. So for that purpose, Moralis Money is the ultimate tool! 
The #1 Tool to Make Money in Crypto
By this point, you already know that Moralis Money is the ultimate tool when it comes to making money in crypto. After all, it offers invaluable real-time, on-chain insights that allow you to spot crypto opportunities early and properly time your trades/investments.
There are several features that this ultimate on-chain analysis tool offers in order to help you with the "how to make money in crypto" quest. For instance, it offers a dedicated "New Real-Time Coins" page where you can see new crypto tokens as they go live. And, you can do so for all the most popular blockchain networks:

Moralis Money also offers dedicated pages for all of the supported blockchains to explore cryptocurrency opportunities:

However, the ultimate "how to make money in crypto" edge comes in the form of Token Explorer! 
Token Explorer – Moralis Money's Core Feature
Do you remember the three main obstacles to crypto profits? Well, Token Explorer is designed to help you overcome FOMO and scams. But how, exactly?
Well, by offering a user-friendly way to detect the best altcoin opportunities at any given moment, you get to find tokens before they pump. This allows you to get your timing right and avoid chasing an asset that is near the top. In other words, you get to say goodbye to FOMO.
Token Explorer also incorporates the Token Shield feature, which is all about keeping you safe. So, whenever you run a Token Explorer strategy, Token Shield automatically performs a security check for all cryptos that match your search parameters. As a result, you get a dynamic list of tokens with potential, all equipped with security scores. As such, you get to reduce the risk of entering a scammy token.

Overcoming Lack of Time with Token Alerts
As for the lack of time hurdle, Moralis Money offers Token Alerts, and there are two aspects to this.
On the one hand, Token Alerts comes in the form of automated Token Explorer strategies. So, whenever you find a combo of search metrics that you like, you get to save your strategy via the "Save Strategy" button:

Then, you can run your saved strategy on autopilot and, in turn, spot new altcoin opportunities without any additional time investment. As soon as a new crypto matches your filters, you'll receive an email alert!

On the other hand, Moralis Money also offers individual token alerts. So, whenever you find a token that you want to keep an eye on, you get to create an alert for it. That way, you can relax knowing you'll be notified when the token's parameters meet your criteria. This obviously saves you a lot of time as you don't need to constantly return to that token page. 
To access the individual Token Alerts feature, you'll want to upgrade to the Starter or Pro plan. By doing so, you'll also get access to all the lower timeframes and take a major step closer to making serious money in crypto.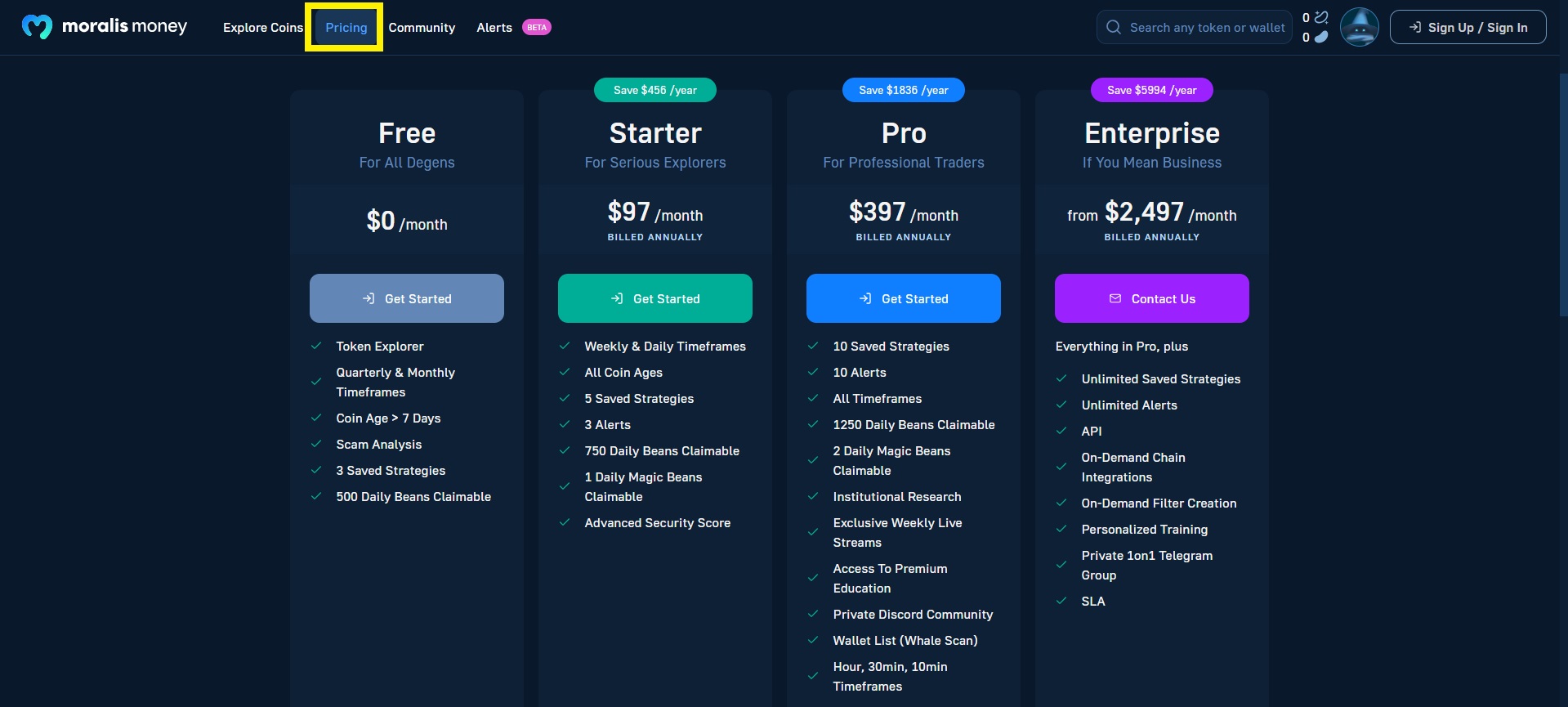 How to Use Moralis Money to Make Money in Crypto and Get Rich
So, can crypto make you rich? Yes, and it's time you learn how to make money in crypto and get rich with Moralis Money. So, essentially, your goal should be to master these three steps:
Spotting the best altcoin opportunities at any given time.
Researching and making sure that now's the right time to buy the particular altcoin.
Buy/sell the altcoin in question.
How to Make Money in Crypto Step 1: Spotting the Best Altcoin Opportunities
Start by accessing the Token Explorer page: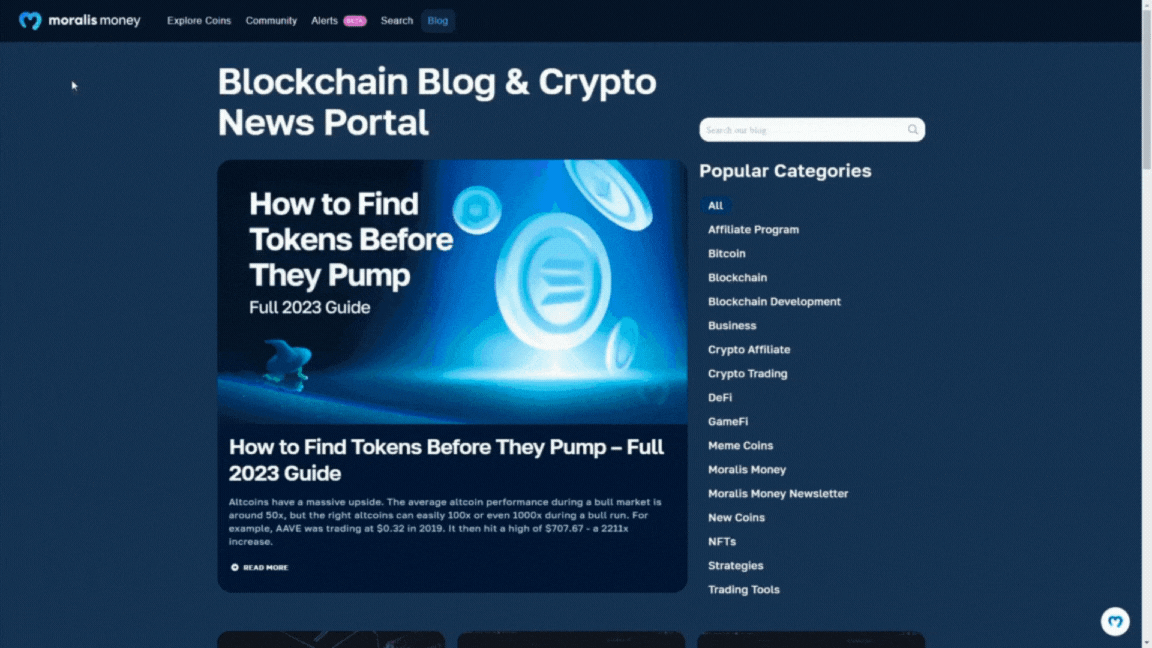 Next, you can run one of the predefined strategies: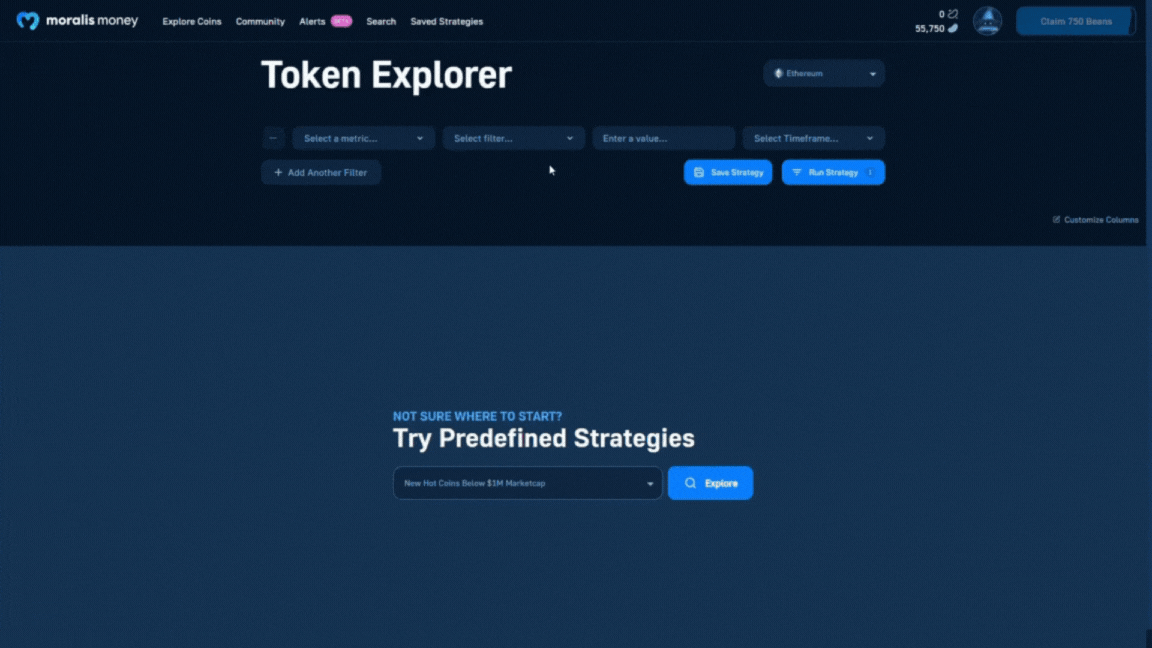 Or, apply your unique combo of search parameters: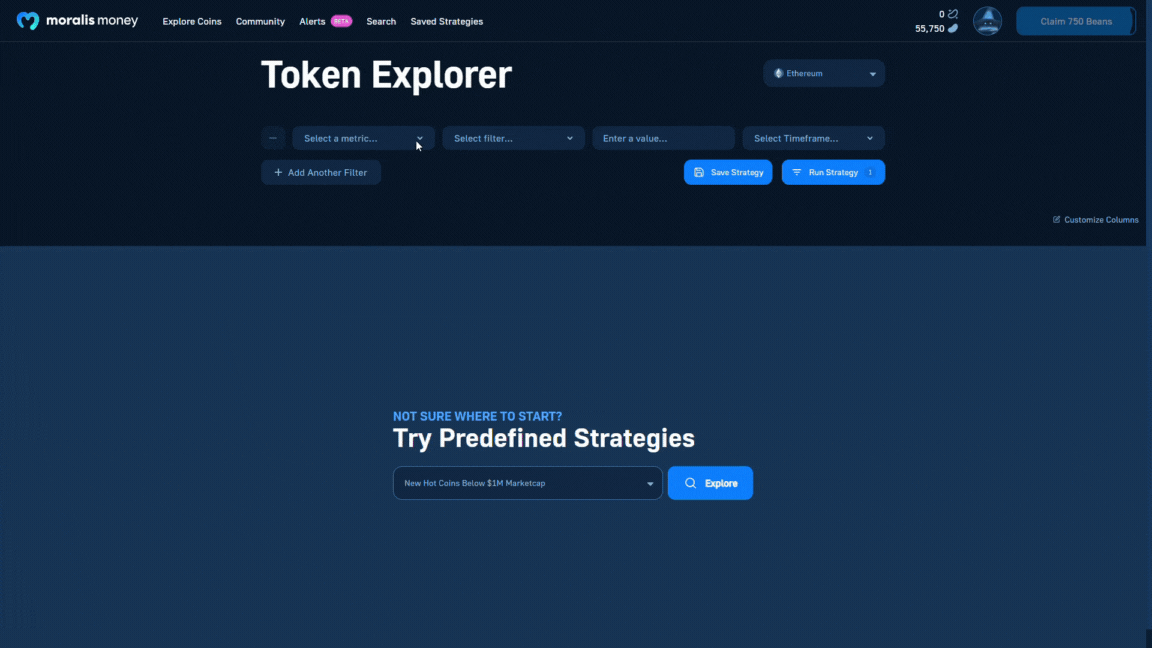 You'll want to experiment with unique combinations of metrics. After all, they will increase your chance of finding tokens among the first ones.
However, you can use predefined strategies as starting points and then tweak their metrics, filters, and timeframes. Once you find strategies that offer great results, make sure to save them and start running them on autopilot.
How to Make Money in Crypto Step 2: Researching and Making Sure That Now's the Right Time to Buy the Particular Altcoin 
You'll want to properly research any token with potential, including its price and its real-time, on-chain metrics (a.k.a. alpha metrics). So, simply click on the token you find interesting in your dynamic list of alts with potential: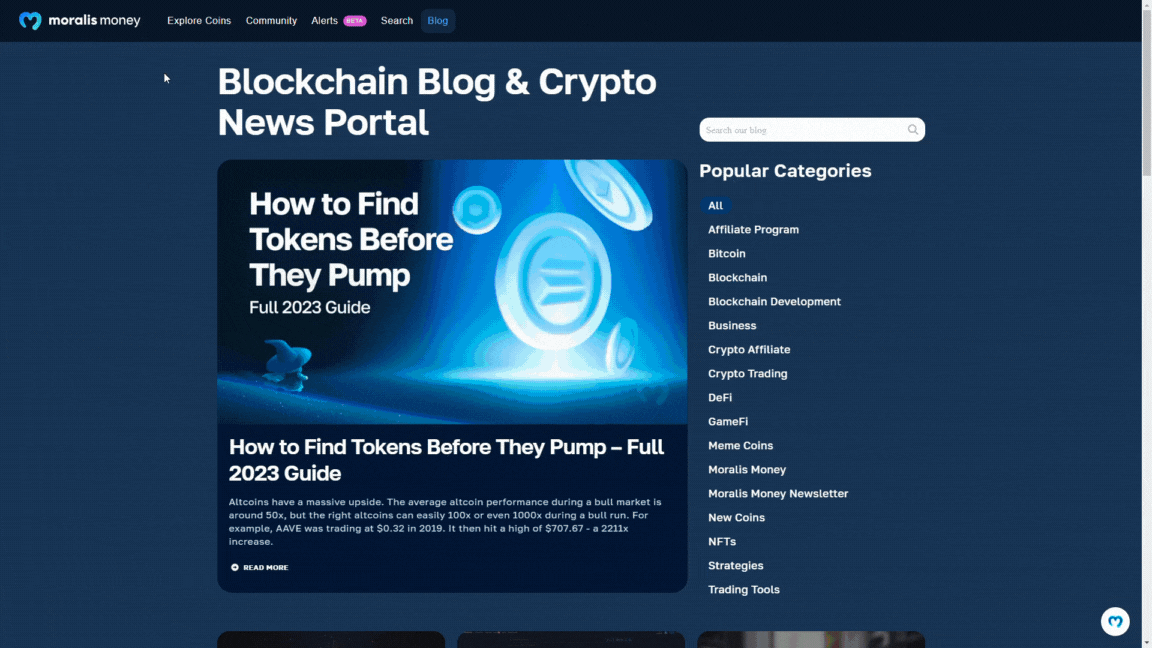 Also, don't forget to lock in your Starter or Pro plan. They are your tickets to setting up individual token alerts!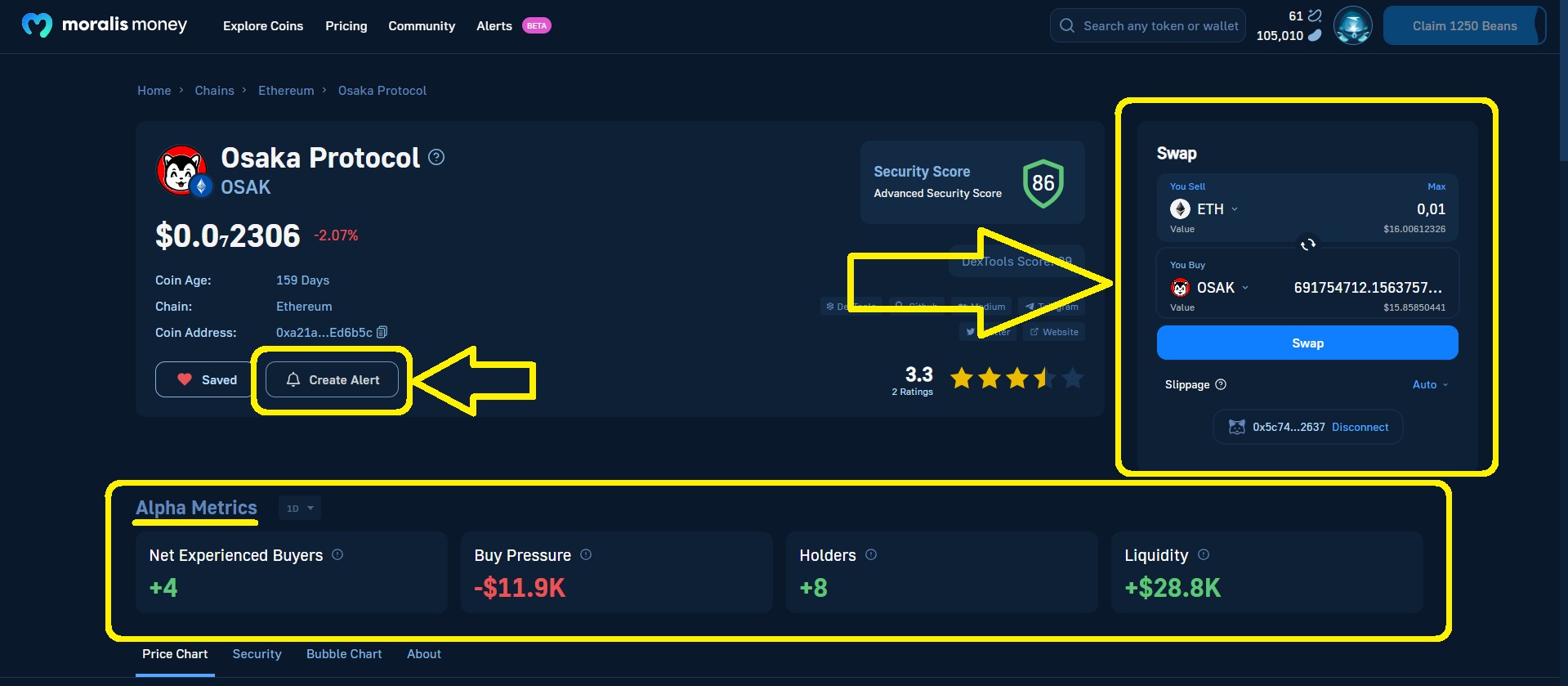 How to Make Money in Crypto Step 3: Buy/Sell the Altcoin in Question
Last but not least, if you like the token and its metrics tell you the time is right to buy the asset, use the Moralis Money instant crypto swap feature.
As you can see in the above screenshot, the swap feature awaits you right on the token page. It is extremely easy to use; you just need to connect your Web3 wallet, select the asset you wish to use to buy the token in question, and execute the swap.
In case you are new to crypto swapping, make sure to check out our step-by-step guide on how to swap ERC-20 tokens. However, the following animation should get you on the right track: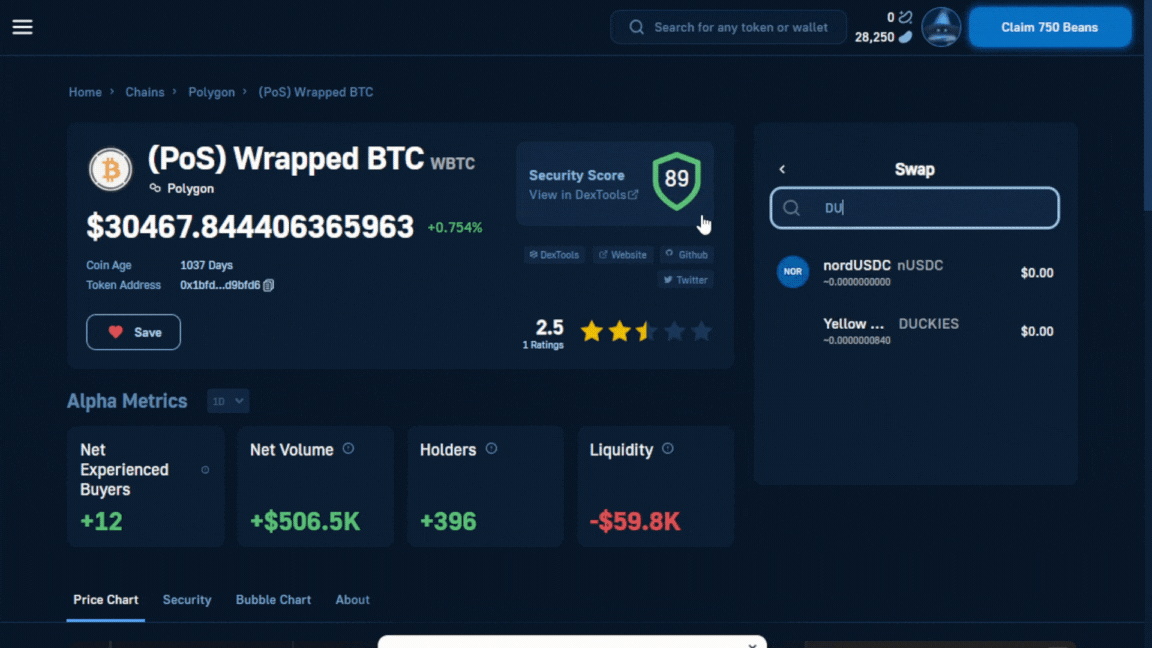 It's important to note that in order to make profits, you'll also want to sell the token once its value increases. This is where its Moralis Money token page will come into play again. Plus, using individual token alerts, you'll be able to receive a signal when it may be a good time to sell.
Of course, Moralis Money's core features are steps one and two. As for the third step, you can use any exchange (DEX or CEX) if you'd like to execute the trade or use Moralis Money's swap feature.

Can Crypto Make You Rich? How to Make Money in Crypto Explained – Key Takeaways
Be aware of the three most common obstacles: FOMO, scams, and lack of time. Furthermore, do your best to avoid them.
How to make money in crypto? The most common ways include investing, trading, staking and lending, going full-time crypto, mining, hunting for airdrops, and P2E. 
Can crypto make you rich? Yes; however, not all ways of making money with crypto have the same potential. In fact, crypto investing and trading are typically the most lucrative paths.
With Moralis Money in your corner, you can overcome FOMO, scams, and lack of time.
Moralis Money is the best tool to make money in crypto.
To make money in crypto with Moralis Money, first, find the best altcoin opportunities, then research them, and finally execute the trade. 
While there is serious money to be made in crypto and in all market conditions, bull markets tend to be extra profitable. As such, make sure to master the above-outlined process before the next bull run takes off! By learning how to find the next coin to blow up, you'll be ready to make serious profits with crypto. So make sure to learn to trade crypto and make money!
Visit Token Explorer or use the interactive widget below to run your first Moralis Money strategy. Also, subscribe to Altcoin Advantage to stay ahead in crypto with free trading insights.
Source link