Moving forward, we'll first make sure you know what the Bluzelle crypto project is; we'll examine the ins and outs, look at the creators, and see how Bluzelle works. With a basic understanding of the Bluzelle crypto project under our belts, we'll be ready to take a closer look at the BLZ coin.
We'll start with the coin's basics and dive deeper as we move on. So, you'll get to learn what the BLZ token is, what its purpose is, and what the BLZ cryptocurrency's use cases are. Plus, we'll also inspect the asset's tokenomics, including some key metrics and what its distribution looks like. Learning about the Bluzelle crypto project and its BLZ coin will serve as a sort of fundamental analysis of this GameFi venture. As such, the obvious next step is to perform a technical analysis (TA) of the Bluzelle token. Accordingly, we'll perform a full $BLZ price analysis and use TA basics to outline core support and resistance levels. Nonetheless, we'll even use a valid technique to offer a speculative BLZ coin price prediction. 
Last but not least, you'll get to find out how Moralis Money can help you decide if and when you should buy $BLZ.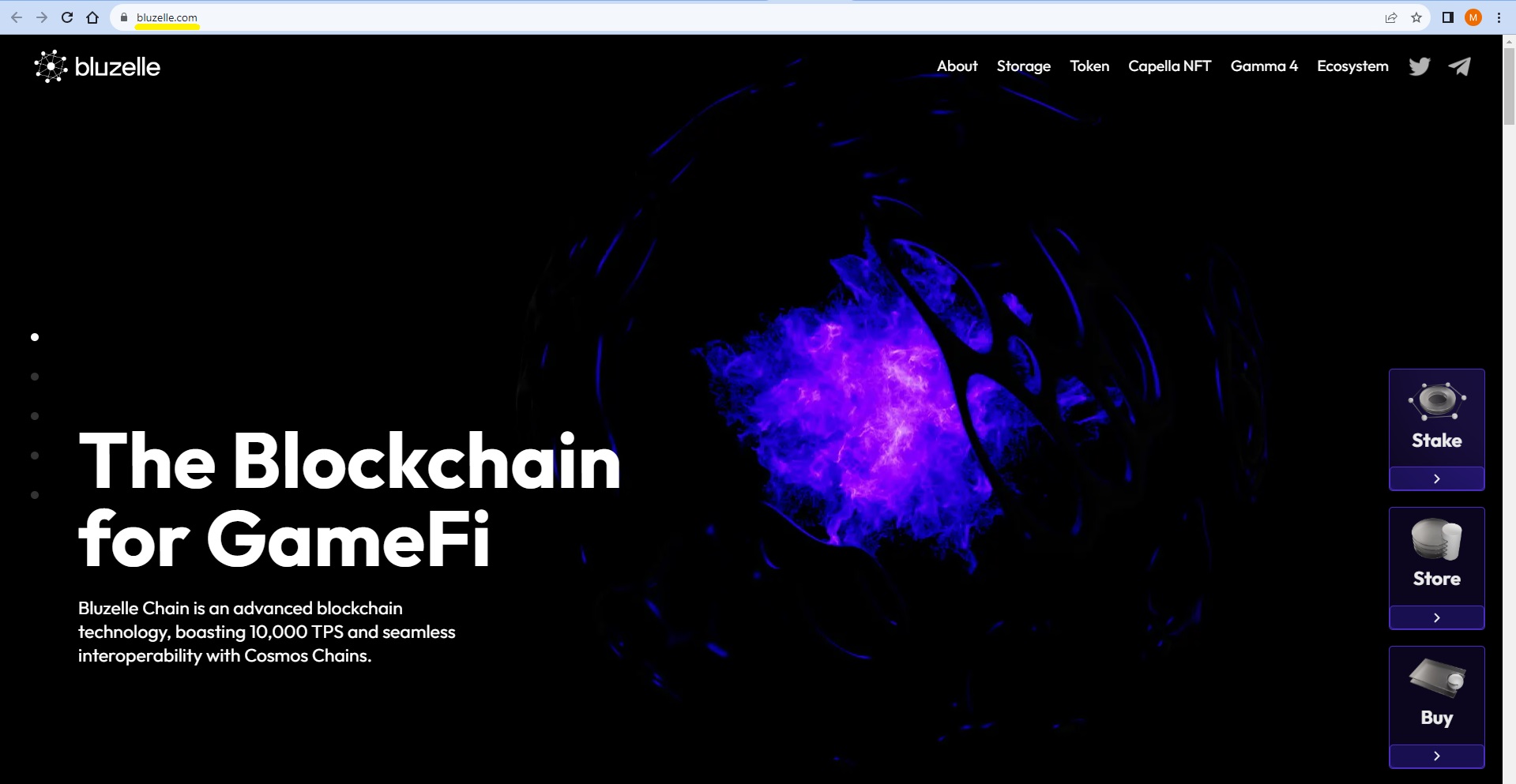 What is Bluzelle (BLZ)? Exploring the Bluzelle Crypto Project
Bluzelle is a blockchain company that strives to level up the technological power structures and access to information through decentralization. This is reflected in the company's mission, which is all about ensuring creators get to control their intellectual property free from any gatekeepers. As part of this mission, the company created a unique blockchain network.
Bluzelle is also a blockchain for GameFi, with a special decentralized storage layer. 
According to the Bluzelle crypto project's website and documentation, the Bluzelle blockchain has the ability to support high-quality games, protect players' NFTs in its decentralized storage layer, and leverage DeFi yields. As far as the latter goes, the project points out that Cosmos-based 10,000 transactions per second (TPS) capabilities play a key role.
So, one of the reasons why the project created the Bluzelle crypto is to help overcome the issue of high gas fees on Ethereum. They believe that high fees and scaling issues deliver poor user experience and are not something gamers would like to experience.
Inside the Bluzelle GameFi Overview section on their website, the project presents Bluzelle's four-point framework as a solution to the aforementioned issues:
Fast and Elegant Blockchain – According to Bluzelle's docs, thanks to 10,000 TPS throughput, in-game assets can trade hands fast and for pennies.
Decentralized Storage – This is where Bluzelle's fully decentralized storage layer enters the scene. Its core purpose is to protect the players' hard-earned NFTs. 
In-Game DeFi – As Bluzelle aggregates the DeFi products in the Cosmos ecosystem, players can lend, stake, and earn yield on their in-game assets.
High-Quality Games – The Bluzelle project decided to showcase the power of the Bluzelle GameFi blockchain by delivering its own P2E (play-to-earn) game: Denomination. This game will also be the first product within the Bluzelle metaverse.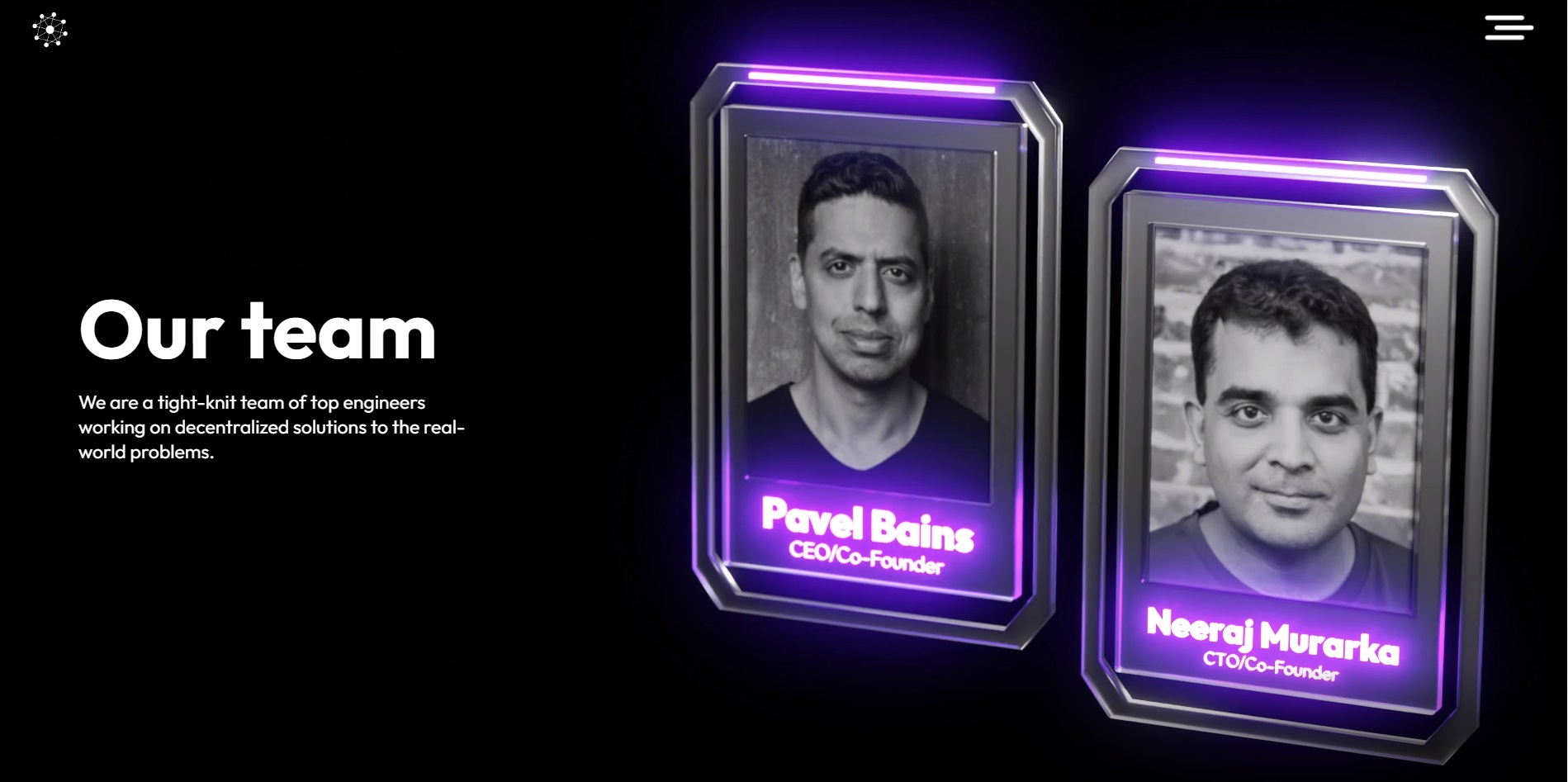 The Creators Behind Bluzelle
It's worth pointing out that Bluzelle is not a new kid on the block. After all, the company went live ten years ago. It was in 2014 when Pavel Bains and Neeraj Murarka co-founded Bluzelle. Bains took on the role of the company's CEO, and Murarka the role of a CTO. They are the only two team members that the project's website outlines.

How Does Bluzelle Work?
The three core components of the Bluzelle infrastructure include a validator network, the Keplr wallet, and a block explorer. 
Bluzelle's validator network is the backbone of the platform and its decentralized blockchain, as well as its decentralized storage layer. This network consists of distributed validators that ensure proper security and decentralization. The task of validators is to collaborate on transaction confirmation and data integrity in order to ensure a robust infrastructure.
With Keplr, a versatile crypto wallet, users get to securely store the BLZ coin and other digital assets. Bluzelle ensures that this wallet has a user-friendly interface and advanced security features. As such, Keplr offers a seamless experience for handling BLZ tokens.
As for the Bluzelle block explorer, just like any other blockchain explorer, it is a tool anyone can use to monitor and analyze activity on the Bluzelle network. This is where users get to view transactions, on-chain addresses, and other data within the Bluzelle network.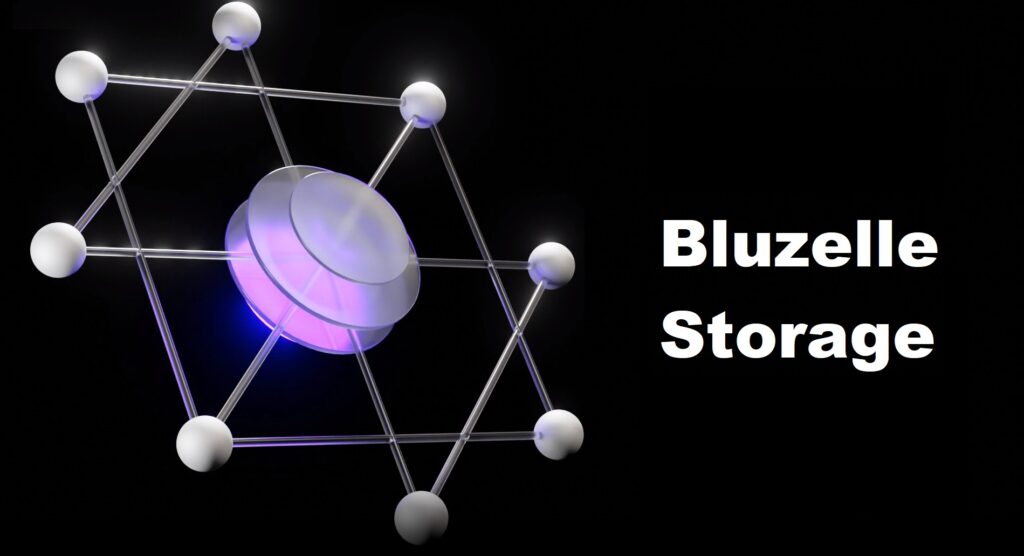 Bluzelle Storage Overview
The project's documentation highlights that decentralization and mutability, greater global coverage, and lower cost are Bluzelle's core storage features.
So, unlike a typical blockchain database that stores data permanently, Bluzelle storage does sort of the opposite. The project sees keeping data permanently costly and ineffective for applications. As such, it stores data like a traditional database, but it does so with an added blockchain-like security. This combo ensures that data is updated and deleted at a low cost and that it is accurate and can only be changed by its rightful owner. Bluzelle achieves that by integrating Tendermint – a byzantine fault-tolerant system.
Bluzelle's docs further outline that the network's providers are spread across Asia, Europe, and North America and that the expansion to Africa, South America, and Australia is in the pipeline. This ensures proper distribution and multi-region coverage.
To achieve lower costs, Bluzelle utilizes outside sources, which reduces the project's overhead. This means that Bluzelle gets to offer lower prices to developers interested in a decentralized storage solution.

Note: You can dive into the nitty-gritty of the Bluzelle network and storage solution by exploring the Bluzelle documentation!
About the BLZ Coin
While many of us appreciate blockchain technology and its potential applications, almost all of us primarily want to make money with altcoins. For that, Bluzelle offers its own token: the BLZ coin. So, let's look at what BLZ is, its purpose, and what the token's use cases are.

What is the BLZ Token, and What is BLZ's Purpose?
The BLZ token is the Bluzelle ecosystem's native cryptocurrency. The native token lives on the BLZ mainnet and this BLZ cryptocurrency is also known as L1-BLZ.
On the other hand, the BLZ coin is also available on the Ethereum chain, following the ERC-20 token standard known as the ERC-BLZ token.
However, the two instances of the Bluzelle token are interchangeable and have the same value denoted in USD. Of course, they serve different purposes.

BLZ Crypto Use Cases
The above-presented dual-token system may be a bit confusing at first. However, this section will clarify things. 
The ERC-20 BLZ token is an external token, and its core purpose is to allow crypto users to access it easily via CEXs and DEXs. So, those interested in buying and trading BLZ need to focus on that particular Bluzelle token.
As for the Bluzelle crypto token on the BLZ mainnet, it is a utility token. Hence, it can be used to pay for Bluzelle network transactions and to participate in the network as a validator. Since the Bluzelle crypto network uses a PoS (proof of stake) consensus mechanism, validators must stake their BLZ cryptocurrency stack. By doing so, they become eligible for the network rewards, which allows them to earn passive income.
In addition, Bluzelle tokens may also be used to pay for Bluzelle storage and Bluzelle Oracle services and to participate in the BLZ mainnet network governance. 

Bluzelle (BLZ) Crypto Tokenomics – Metrics and Distribution
By this point, you know there are two BLZ crypto assets – one on Ethereum and the other on Bluzelle. Since they are interchangeable, we'll focus on the ERC-20 Bluzelle token as we move forward. After all, that is the one you can buy and trade using popular outlets.
With that in mind, here are the core BLZ cryptocurrency's tokenomics:
Token name: Bluzelle token
Symbol/ticker: BLZ or $BLZ
Network: Ethereum
Token type: ERC-20
Smart contract address: 0x5732046a883704404f284ce41ffadd5b007fd668 
Total supply: 500,000,000 $BLZ
Mint date: January 15, 2018
Token allocation: See the following section
BLZ Crypto Token Allocation
As outlined above, the Bluzelle crypto asset went live in January 2018. However, the Bluzelle team announced the asset allocation details on the project's blog and in their Telegram group in December 2017. 
According to that announcement, the token's hard cap was $19.5 million, and this was the allocation of a total of 500,000,000 $BLZ:
33% (165,000,000 $BLZ) went to the public via a private and public sale.
22% (110,000,000 $BLZ) went to the Bluzelle company for future financing of its ventures.
10% (50,000,000 $BLZ) went to the community and network participation rewards.
15% (75,000,000 $BLZ) went to the founders with a four-year vesting schedule.
5% (25,000,000 $BLZ) went to the budget for company employees with the same vesting schedule as for the founders.
10% (50,000,000 $BLZ) went to the budget for advisors and bounties.   
Full BLZ Token Price Analysis
Since the BLZ coin has been around since 2018, it offers quite a lot of price data. So, we can start by looking at the asset's complete price chart: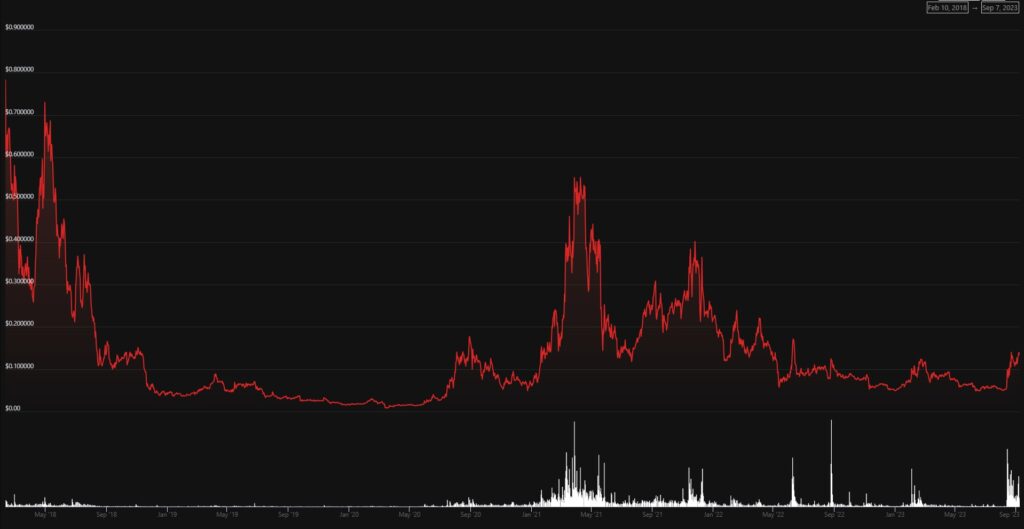 A quick overview of the above chart tells us that the token started to trade at approximately $0.78 in February 2018. However, the price plummeted to $0.26-ish by April of that same year. From there, it managed to bounce back above the $0.7 level but then pulled back again.
The 2019-2020 bear market hit the BLZ crypto token quite hard and brought its price down below one cent, reaching as low as $0.008 in March 2020. However, that low marked the beginning of a bull market. After that, the BLZ coin's price started to recover. It went on several rallies; however, even its top of that cycle ($0.55-ish) didn't manage to reach the asset's 2018 price.
After the spring of 2021, which marked the top of most of the altcoins for that cycle, $BLZ had another run. However, on that occasion (November 2021), the price didn't get above $0.4. Then, as the entire crypto market, with Bitcoin leading the herd, pulled back, the price of BLZ again started to decline.
The asset found its bottom in December 2022, at $0.05-ish. After a short-lived rally in early 2023, the price revisited the $0.05-ish level on two other occasions (June and August 2023). 
Following that last retest, the BLZ cryptocurrency started to recover. In less than one month, it doubled its value and even managed to break above the previous resistance at $0.12-ish.
At the time of writing, the Bluzelle crypto asset is trading at $0.13-ish.
TA Using the BLZ Coin Chart
The following image shows the BLZ price chart on a weekly timeframe, showing data from August 2020. Based on that chart, we can see that the bottom is highly likely in. So, the $0.05-ish level will most likely mark the bottom of this bear market: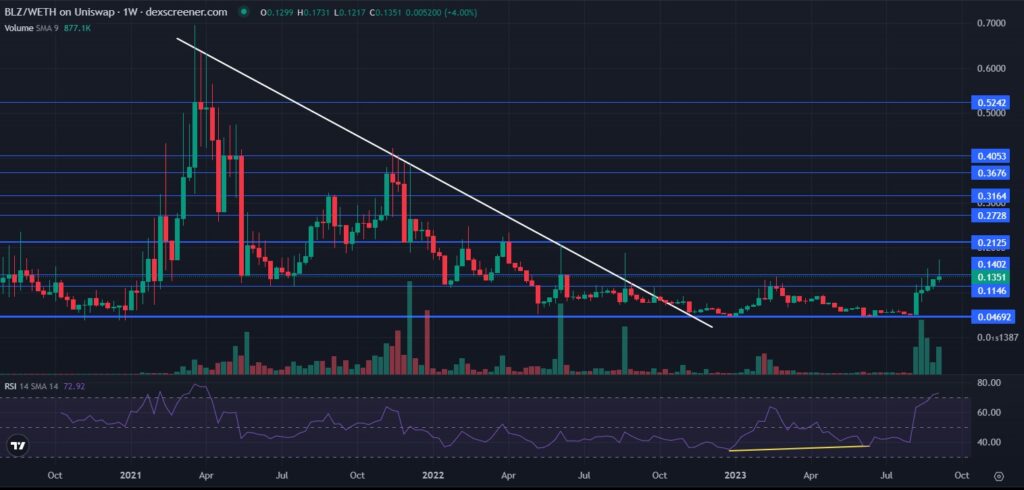 Multiple confluences confirm the above conclusion, including a breakout through the downsloping trendline and a bullish RSI divergence. Plus, the $BLZ price already printed a weekly close above the previous resistance at $0.11-ish.
Still, the current region has served as both resistance and support in the past. Thus, some side movement above $0.11-ish is the most likely scenario in the upcoming days and weeks.
BLZ Coin Price Prediction
In the above-covered price analysis, it's clear that the BLZ price moves with the rest of the crypto market. Hence, if the crypto market as a whole manages to hold current levels, BLZ is likely to stay above $0.11-ish. However, in case of a further downside, the BLZ coin will probably revisit $0.08-ish and perhaps even the $0.05-ish level.
On the other hand, if the crypto market as a whole starts to move to the upside, $BLZ is likely to go higher. In that case, the most likely price predictions will be the outlined levels of significance (blue horizontal lines) from the previous image.
And, if the Bluzelle crypto token were to break above $0.8-ish, it would enter a price discovery mode. That scenario is likely to take place in the upcoming bull run. So, in that case, one of the optimistic price targets (offered by the "4.236" Fib extension level) points to $2.8-ish: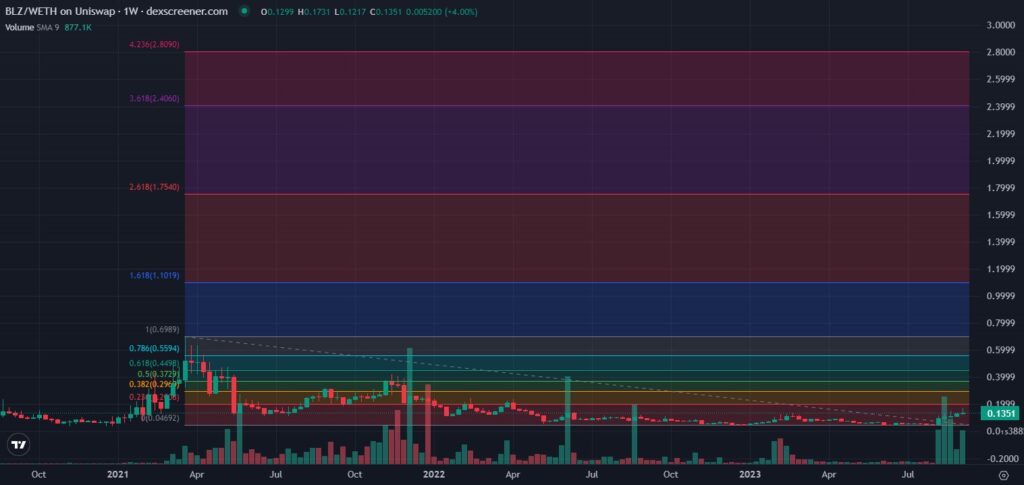 However, for even more optimistic targets, one can compare BLZ's market cap with the $AR and $FIL tokens' all-time high (ATH) market caps. In that case, the $BLZ price could reach cross $6 or even $29. 
Is Bluzelle (BLZ) a Good Crypto?
Just by being around since 2014, Bluzelle deserves a "good crypto" title. However, that doesn't mean you should run off and buy it. After all, the token's price didn't perform "that good" in the last bull market either. Plus, the token's allocation is quite poor, with the company and the founders holding a lot of BLZ tokens.
Still, if, based on the above sections, you find $BLZ interesting, we encourage you to research the entire project and the BLZ asset further. Fortunately, there's no better place to do that than the Moralis Money Bluzelle ($BLZ) token page. 
Aside from finding all the links and resources required to properly research BLZ, this page also offers the token's real-time, on-chain metrics (a.k.a. alpha metrics). These invaluable insights will help you determine if now is a good time to buy $BLZ.
With that said, make sure to follow the above "$BLZ" link or use the interactive widget below to research the Bluzelle crypto:
Where and How Can You Purchase $BLZ?
There are many markets (including some of the most popular CEXs where you can buy $BLZ). However, if you believe in decentralization and want a user-friendly experience, then the Moralis Money instant crypto swap feature is your best bet. It is safe, simple to use, affordable, and right on the above-presented page: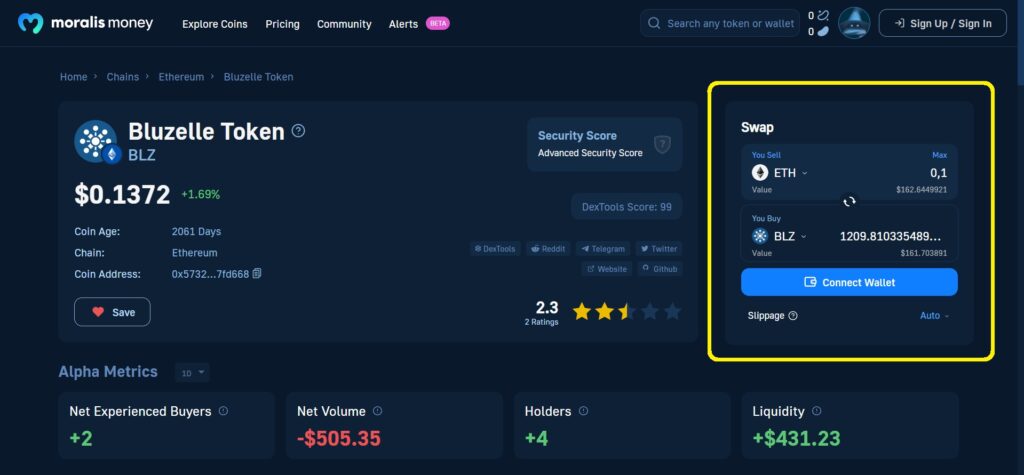 As for the how part of purchasing $BLZ, Moralis Money is highly intuitive. So, if you've swapped tokens before, you shouldn't have any issues. However, if you are new to swapping cryptos, we recommend checking out our step-by-step guide on how to swap ERC-20 tokens. That said, the animation below may be more than enough to set you on the right track: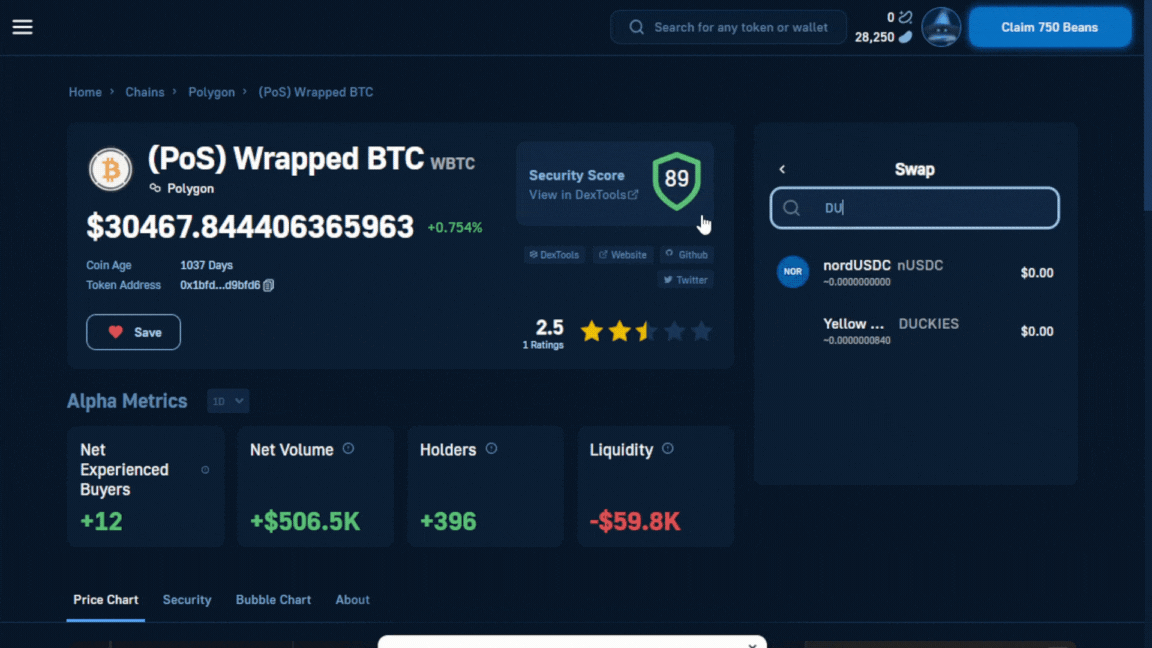 What is Bluzelle and the BLZ Coin? Bluzelle Crypto Analysis – Key Takeaways
The Bluzelle crypto project has been around since 2014, and it is all about decentralized storage and infrastructure for Web3 gaming.
In 2018, the project launched its own token: the BLZ coin. It lives on Ethereum as well as on the BLZ mainnet.
The BLZ cryptocurrency's price has been performing rather poorly in the past cycles. The token's poor allocation could be playing a role here. 
To research the project and its asset further and to determine if/when to buy $BLZ, use Moralis Money's token page dedicated to that crypto.
If you decide to buy $BLZ, Moralis Money's swap feature is your go-to option.
Whatever you decide to do with BLZ, you should keep in mind that there are countless other altcoin opportunities. And, since the average altcoin tends to increase by 50-70x during a bull market, you ought to learn how to find tokens before they pump. 
The key lies in Moralis Money's core feature: Token Explorer. 
With this powerful tool in your corner, you can start spotting the best altcoin opportunities on autopilot. And you can do so on all the leading EVM-compatible chains (Ethereum, BNB Smart Chain, Polygon, Fantom, Arbitrum, etc.). 
You can start using Token Explorer for free. However, if you are serious about your altcoin investments and want the ultimate altcoin advantage, you'll want to access all the lower timeframes reserved for Starter and Pro users. 
Start running your altcoin strategies today and get ready before the next bull run takes off!
Source link