We'll start today's article by diving into the OETH crypto coin. In doing so, we'll cover why Origin Protocol launched the OETH token, explore its place in the ecosystem, and how it works. From there, we'll analyze the price of the Origin Ether coin and discuss whether or not it presents a good investment opportunity. We're also going to show you how to buy the OETH crypto coin using Moralis Money – the industry's #1 on-chain trading indicator. Lastly, we'll also briefly cover the intricacies of the Origin Protocol ecosystem. 
If this sounds intriguing, join us as we jump into the Origin Ether crypto! 
What is Origin Ether (OETH)? 
The Origin Ether (OETH) crypto was minted on March 29, 2023, and it's an ERC-20 token on the Ethereum blockchain network. The OETH crypto coin is an innovative Ethereum yield aggregator optimizing yield between ether liquidity provision and liquid staking tokens on leading automated market makers (AMMs). Furthermore, OETH is an ether-denominated token, and it benefits from the same yield-boosting mechanism that Origin Dollar (OUSD) invented.
The Origin Ether crypto has multiple features and beneficial characteristics, and below, you'll find three examples: 
Transparency: OETH generates yield from a short list of conservative strategies that are verifiable on-chain. 
Instantly Redeemable: The OETH on-chain reserve is liquid and allows permissionless redemption without withdrawal queues or gatekeepers. 
Decentralized Governance: The future of OETH is shaped by voters locking their Origin Dollar Governance (OGV) tokens and participating in the decentralized governance mechanism.
OETH Crypto Coin Security 
The OETH smart contracts are forked from OUSD, and OETH has been stress-tested for over two years. What's more, here are three security mechanisms that OETH employs: 
Audits: External and internal auditors continuously review any alterations to the protocol. 
48-Hour Timelock: If malicious governance votes were to pass, all token holders would be given 48 hours to withdraw their funds before any new code implementation. 
Bug Bounties: A $1 million reward is offered via Immunefi for bugs. However, there have been no significant vulnerabilities in over two years since the launch of OUSD. 
Why Origin Protocol Launched the OETH Coin 
Liquid staking tokens, also known as LSTs, are a fast-growing sector in decentralized finance (DeFi). However, Origin Protocol claims the previous products lack yield opportunities beyond validator rewards. And while many crypto users are content with earning ~5% annual percentage yield (APY), they suggest that this will eventually compress.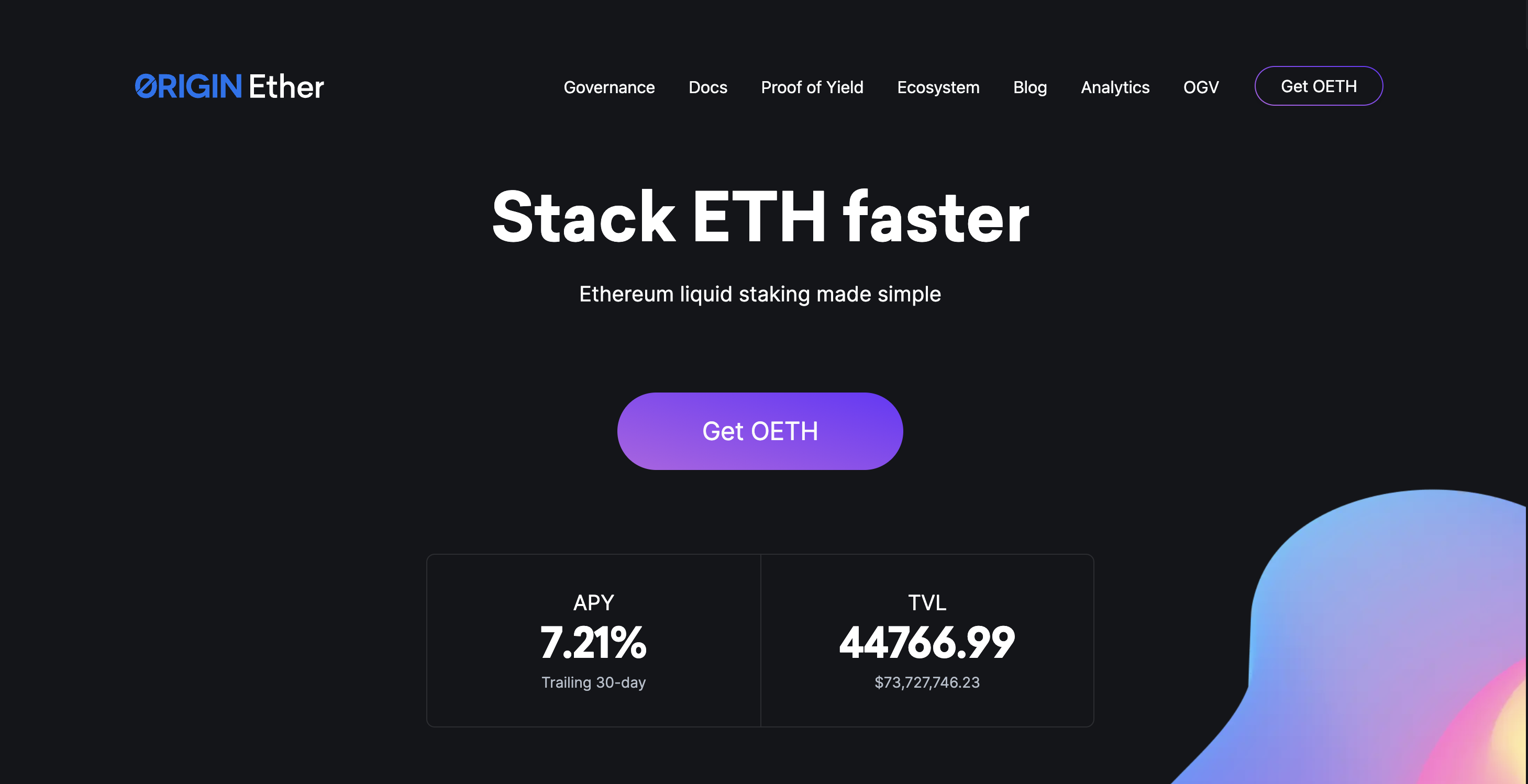 Moreover, DeFi staking opportunities will only continue to increase for liquid staking tokens. Origin Protocol believes they are well-positioned to capitalize on this circumstance and deliver the market's highest APYs on ether with OETH. This is possible due to the innovative yield aggregation mechanisms and smart contracts initially introduced via OUSD.
OETH's Role Within the Origin Protocol Ecosystem 
OETH operates relatively similar to OUSD, and these tokens share much of their codebase. However, the critical difference is that OETH is ether-denominated, while OUSD is USD-denominated.
Nonetheless, OETH is – much like OUSD – fully backed, liquid at all times, and grows autonomously in the user's wallet without them having to pay any network fees. But instead of accepting stablecoins as collateral, OETH accepts liquid staking tokens instead. 
Also, the OETH crypto coin is governed by the OGV token. OGV stakers can vote on future yield strategies, fees, and collateral allocations for the OETH token. Consequently, the OETH token is closely intertwined and dependent on the OGV governance token. 
How Origin Ether Works 
OETH provides a way for users to stack ether by optimizing yield between DeFi pools and liquid staking tokens. The OETH vault accepts multiple tokens, including stETH, rETH, frxETH, and wETH. Furthermore, it also integrates ETH and sfrxETH via the Origin Protocol Zap function.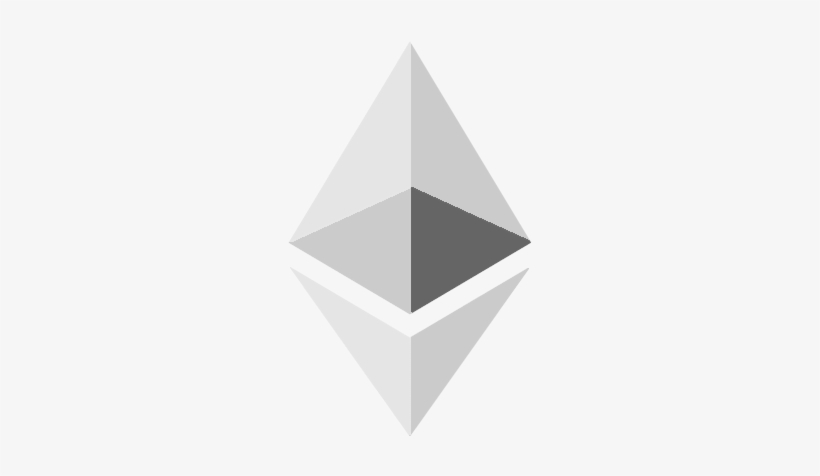 From there, the collateral is optimized between liquidity provision and validator rewards on industry-leading AMMs. And yield is generated daily and automatically delivered to the user's wallet in the form of additional OETH.
In conclusion, this is what the process looks like: 
A user deposits supported tokens to receive OETH. 
OETH optimizes yield between DeFi pools and liquidity staking tokens. 
OETH holders get yield directly to their wallets. 
Holders can swap back to ETH or redeem the tokens for any underlying collateral at all times. 
OETH Coin Price Analysis 
The Origin Ether crypto launched in May 2023 and the token's price is pegged to ether. Consequently, the value of one OETH equals the value of one ETH. Nonetheless, since its inception, the OETH token price is, at the time of writing, currently down about 13%. And the token has an all-time high of $2,022 and a low of $1,569.
Here's a graph showing the entire price history of the OETH crypto coin: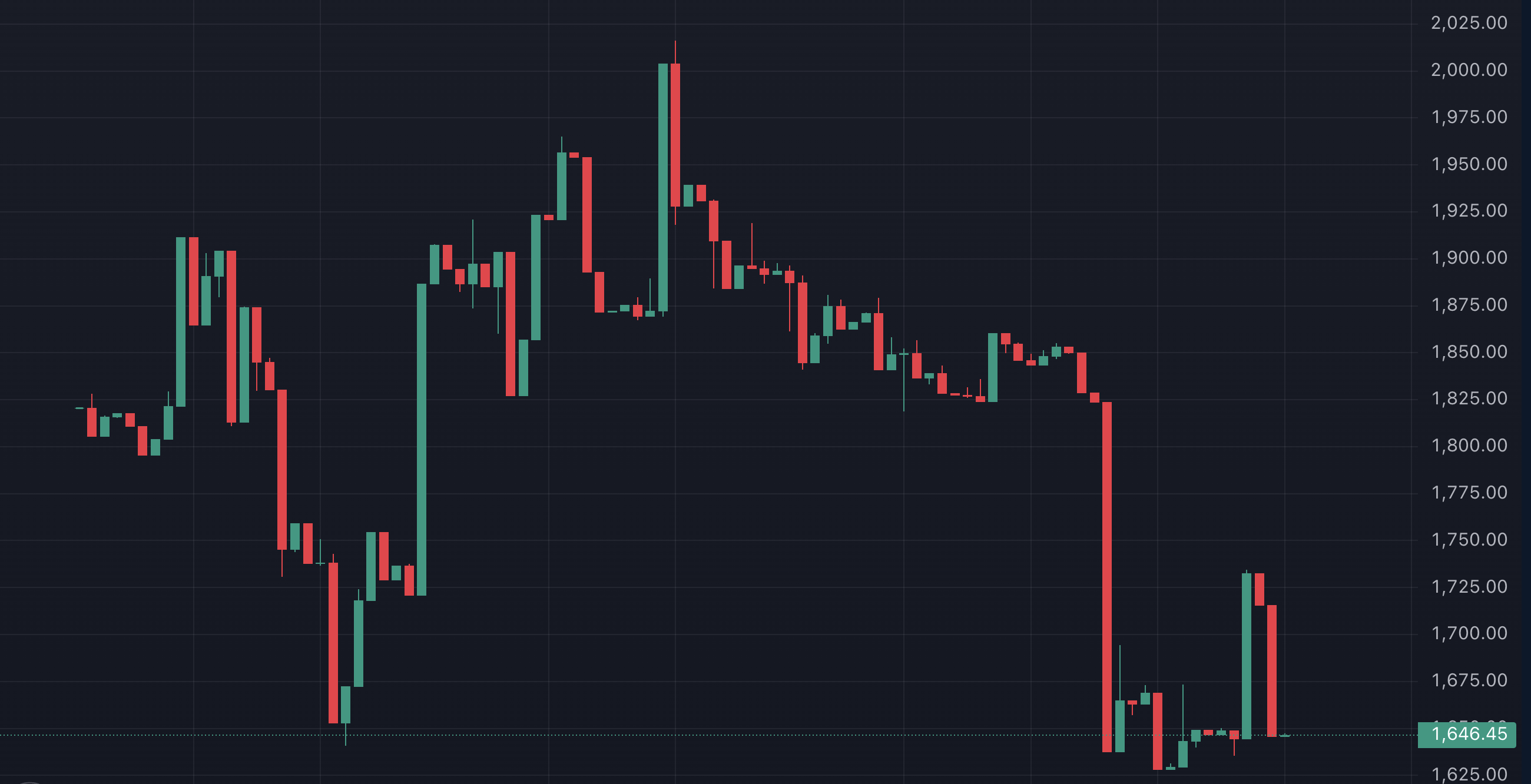 Now, the big question is, should you invest in the OETH coin? 
Should You Invest in the OETH Crypto Coin? 
We can't give you a straightforward answer to the question above. The reason for this is that we don't know anything about your altcoin trading strategy, risk tolerance, etc. Only you can decide whether or not the Origin Ether crypto is a suitable investment. 
But, if you're looking for a yield-generating coin, then you might find that the Origin Ether coin is a solid option. What's more, as the price of ETH increases, so will the price of OETH. As such, if you're planning to invest in OETH, make sure to closely monitor the price of ether. Additionally, you can also monitor OETH using crypto trading signals using Moralis Money!
We can also highlight the potential of OETH by looking at the price history of ETH. ETH has an all-time high of almost $4,900, and if the price returns to this level, OETH will follow. From today's price, at the time of writing, that would be almost 3x! 
However, to further help you decide whether or not the OETH crypto coin is a good investment, you can also study the on-chain metrics of the token using a blockchain analytics tool like Moralis Money. 
Moralis Money leverages on-chain data in real time, providing you with true market alpha. As such, this is the best and easiest way to stay updated regarding any token's on-chain metrics. And this can be helpful if you're, for instance, looking to find arbitrage opportunities. 
One of the central features is Moralis Money's various token pages. On each token page, you'll be able to find the current price of a coin, security information, trading charts, and alpha metrics. Here's what it looks like for the $OETH token: 
With this unbiased, real-time data, you get an edge in the market and can effortlessly maximize your cryptocurrency gains! 
Where Can You Buy $OETH? 
There are multiple ways in which you can buy the OETH crypto; however, your easiest option is to use Moralis Money's crypto-swapping feature. All you have to do is go to the $OETH token page, connect your wallet, and use the crypto swap feature to the right of the UI: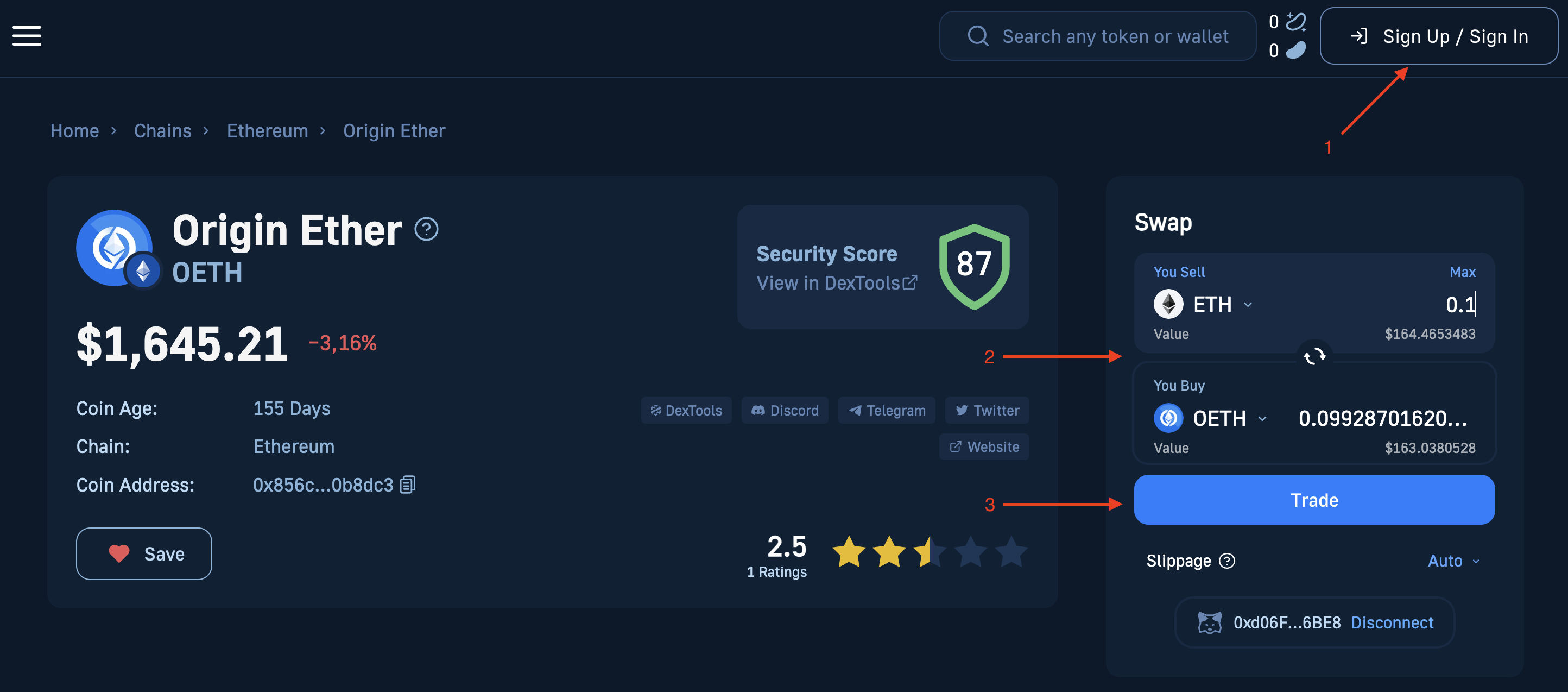 In combination with being one of the most accessible ways to acquire the token, Moralis Money also leverages the 1inch DEX aggregator. With this protocol, Moralis Money is able to offer some of the best prices and lowest fees possible. And this makes Moralis Money one of the cheapest crypto swap platforms on the market.
If you'd like to learn more about crypto swapping, check out the following guide on how to swap on the Ethereum network! 
About Origin Protocol 
Origin Protocol was first introduced back in 2017, and it's an open-source, Ethereum-based platform that streamlines the creation of decentralized marketplaces for non-fungible tokens (NFTs) and digital assets. The aim of Origin Protocol is to combine and bring DeFi and NFTs to the masses. 
The Origin Protocol ecosystem consists of three core products: 
Origin Story: Origin Story is the Origin Protocol ecosystem's NFT arm. The aim of this product is to facilitate innovation of NFT utility via technologies that tokenize real-world assets, services, and digital goods. With Origin Story's white-label marketplaces, anyone can create a robust and inclusive P2P platform for their community.
Origin Dollar: Origin Dollar (OUSD) is a self-custodial stablecoin that generates yield. The coin is collateralized by a reserve of the industry's top stablecoins, including USDC, DAI, and USDT. 
Origin Ether: Origin Ether (OETH), as we already covered, is an Ethereum yield aggregator with many similarities to OUSD. 
What's more, at the center of Origin Protocol, you'll find the ecosystem's native utility token: $OGN. So, what is the OGN crypto? 
What is the Origin Protocol Coin ($OGN)? 
The Origin Protocol coin ($OGN) is an ERC-20 token on the Ethereum blockchain. The token was minted on October 2, 2018, and it's the native utility coin of the Origin Protocol ecosystem. OGN has multiple use cases, including basic transactions, governance, and staking. Moreover, it has a total supply of 1 billion $OGN and an initial supply of almost 24 million. 
Check out our previous article if you'd like to learn more about the Origin Protocol coin! 
Beyond Origin Protocol and the OETH Crypto – Find New Opportunities with Moralis Money 
Analyzing and buying the Origin Ether coin with Moralis Money is just the tip of the iceberg; there's much more to the platform. To further highlight the power of this industry-leading crypto quick scanner, we'll briefly show you how to find tokens before they pump using Moralis Money! 
To do so, we'll demo the Token Explorer feature. With this tool, you can combine 20+ unique metrics to find precisely the tokens you're after. Below, we'll show you how to find new, secure coins gaining traction from other traders:
Step 1: Launch Token Explorer and add the Coin Age metric to find coins minted within the past 30 days: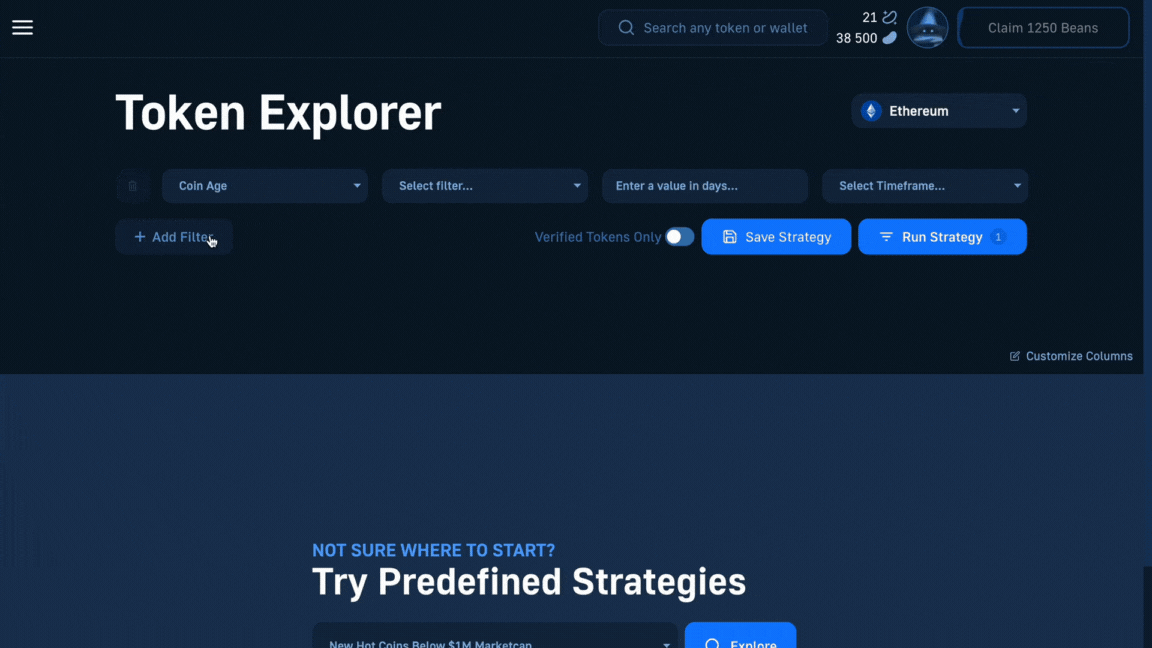 Step 2: Combine Coin Age with the Security Score and Experienced Buyers metrics. With Security Score, we ensure that the results only contain coins with high DEXT scores. And with Experienced Buyers, we filter for coins being bought by other experienced traders: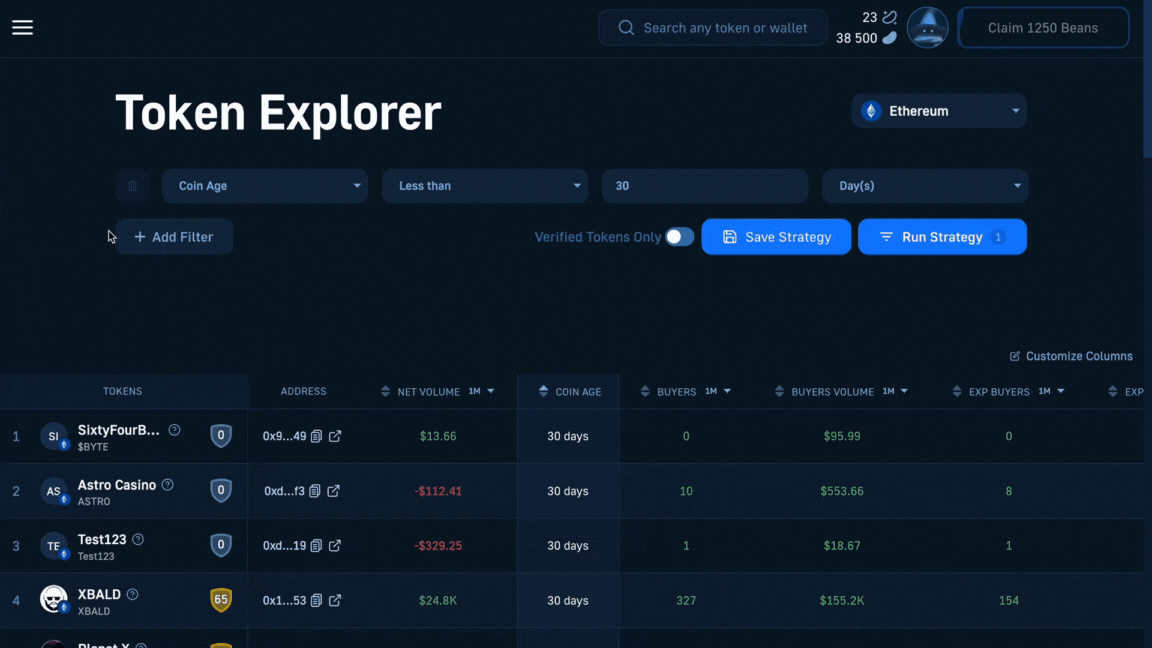 Step 3: Add any additional filters to make your search even more targeted. 
That's it; it doesn't have to be more challenging to find new coins when working with Moralis Money!
If you liked what you saw above, then note that you can supercharge all the features of Moralis Money with the Moralis Money Pro plan. By becoming a Pro plan user, you get access to narrower timeframes, the best crypto whale tracker, premium education, and much more: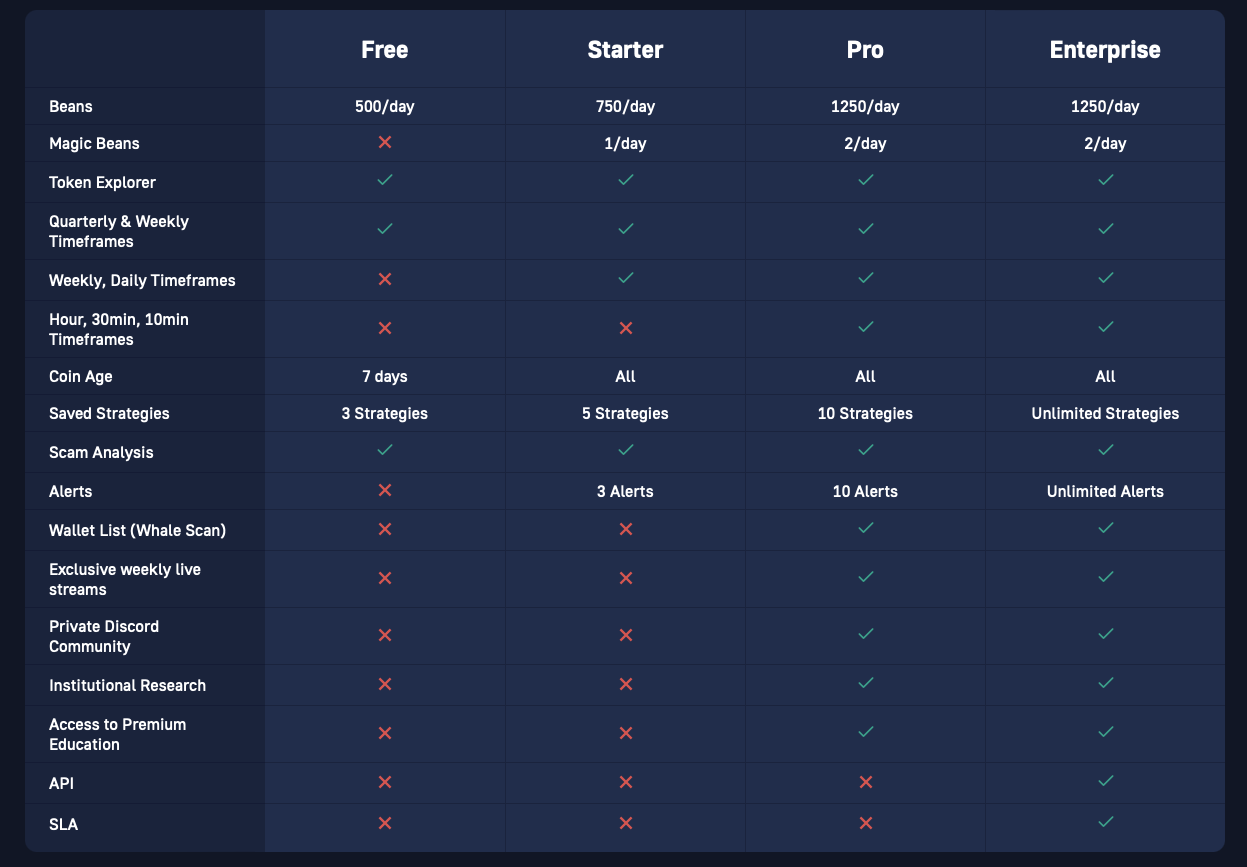 Summary: What is Origin Ether? Exploring the OETH Crypto Coin
In this article, we explored the Origin Ether cryptocurrency. In doing so, we learned that Origin Ether was minted in 2023, and it's an Ethereum-based ERC-20 token. The OETH crypto is a yield-bearing, ether-pegged token that provides an easy way to increase yield returns. Furthermore, the token has several prominent features and benefits, such as high transparency and security. What's more, the token is also governed in a decentralized manner and can be redeemed quickly due to high liquidity.
In addition to exploring the OETH crypto coin, we also analyzed the price of the token and showed you how to buy it using Moralis Money – the industry's #1 crypto pump detector! 
To top things off, we also showed you how to find up-and-coming crypto with Moralis Money's Token Explorer feature. Consequently, with Moralis Money, you can find, analyze, and even buy crypto all in one place. This makes Moralis Money the perfect one-stop shop every trader should leverage!
Also, remember that you can maximize the value of Moralis Money by subscribing to the Moralis Money Pro plan. Doing so gives you access to premium education, a private Discord server, and much more: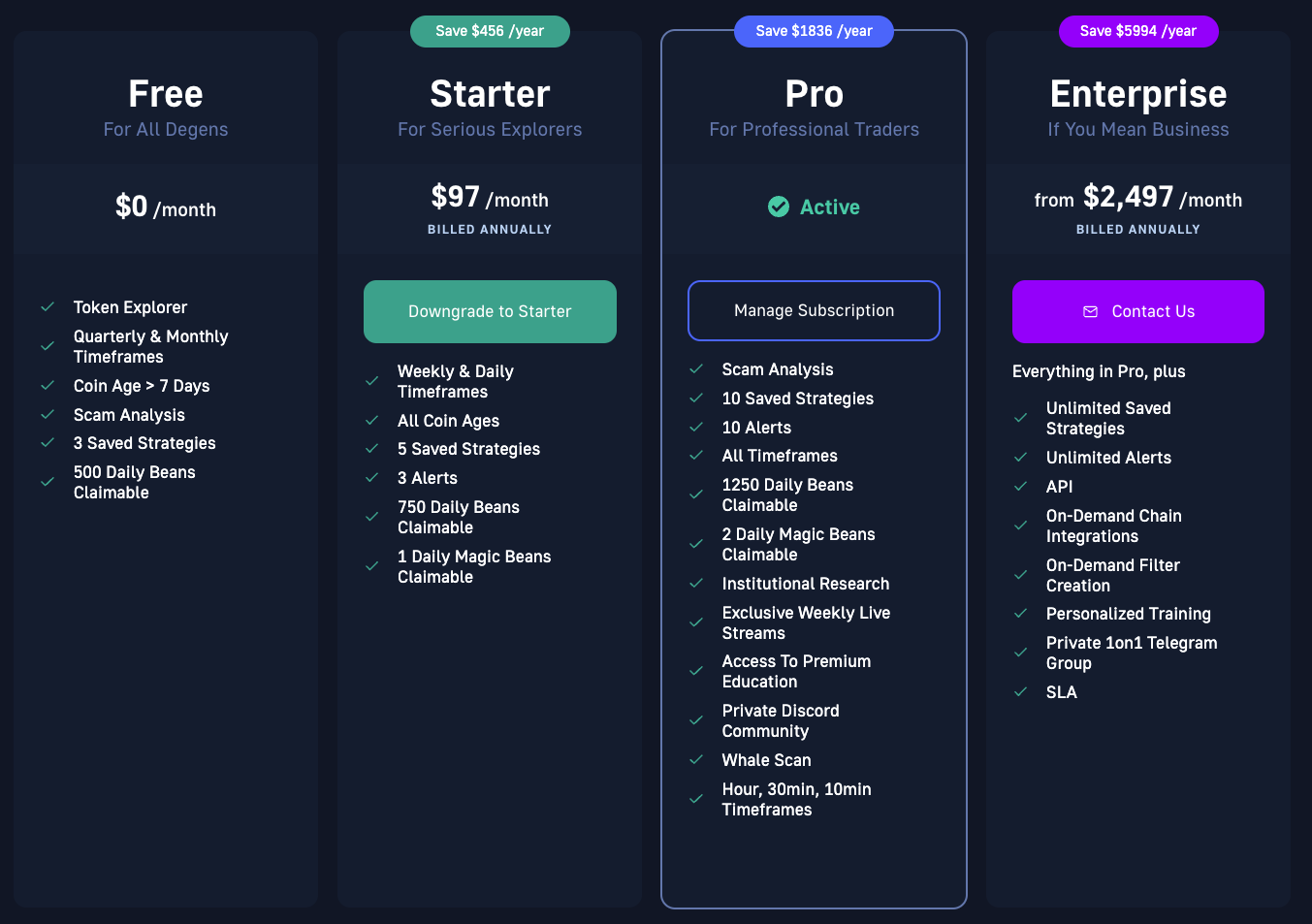 If you liked this article and want more content, then you can find similar guides here on the Moralis Money blog. For instance, read about the GHO token, TOPIA token, or OX coin! 
Source link